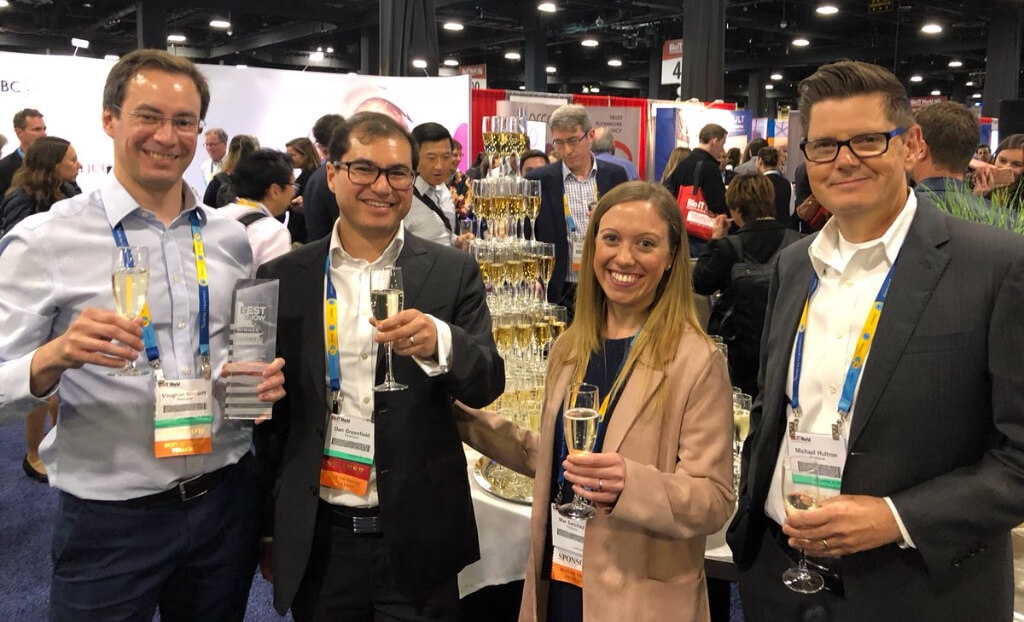 We launched PetaSuite Cloud Edition (CE) at Bio-IT World 2018, the premiere conference for IT in the Life Sciences.  Its benefits for organisations working with genomic data in terms of reduced storage cost, shorter data transfer times and quicker analysis were immediately recognised by the judges of the Best in Show awards; they awarded it top prize in the storage infrastructure and hardware category.  This is the second time we have won this influential award.  The original version of PetaSuite picked up Best of Show in the category for optimising speed and storage at the same event in 2016.
In her award citation for PetaSuite CE, Allison Proffit, Bio-IT World Editor, said: "the judges were very impressed with an offering that lets users access data compression, objects in storage or an s3 bucket, all from the command line."
Petasuite CE allows a user's software tools and next generation sequencing (NGS) pipelines to seamlessly integrate with a wide variety of cloud storage platforms without modification.  Amazon Web Services (AWS), Microsoft Azure, Google Cloud Platform (GCP), private cloud and hybrid cloud are all supported transparently.
PetaSuite CE also delivers significantly improved, high-performance, scalable genomic compression technology.  Lossless compression ratios of up to 10x for GATK BAM files are now possible. Other NGS file types such as FASTQ.gz can now also achieve much better compression ratios.  For FASTQ.gz files, the ratio is up to 4.3 times compression.  This represents a potential space saving of 77%, which brings dramatic cost and transfer time reductions without compromising the quality of the original genomic data.
Dan Greenfield, our co-founder and CEO said: "We are honoured to win this prestigious award for the second time. The fact that the judges acknowledged the importance of our seamless cloud integration, with its implications for scaling and collaboration, was particularly pleasing.  We will continue to strive to create solutions which speed up cooperation and analysis for our research and diagnostic customers."
Find out more about PetaSuite Cloud Edition on the products page or get in touch via our contact page.