Award Winning Innovation
PetaGene has won "Best of Show" at Bio-IT World, the premier conference for IT in the Life Sciences, three times. In 2016, PetaSuite won against 46 competitors, in the category for optimising speed and storage. In 2018, PetaSuite Cloud Edition (CE) won in the infrastructure and hardware category and in 2019 PetaGene's latest security innovation: PetaSuite Protect won the 'Nailed It' award against 30 competing products.
"The judges chose a new product that could give you millions of dollars worth of storage savings right now, a product that several of our judges wanted to go buy immediately after lunch."
Allison Proffitt
Boston, USA Editorial Director of Bio-IT World
Testimonials
"By using PetaSuite compression software for our data we have achieved our primary aim of dramatically increasing our storage capacity. This means that we do not need to spend precious resources on replacing or adding to it. The PetaGene team were responsive to our needs, including managing the demands of using IGV to efficiently access the compressed data via Apache server without decompressing the data first."

"We were looking for a reliable NGS compression solution that we could quickly deploy at scale on our large cluster and would allow us to reduce our tier 1 storage needs. We were under time pressure to decide on a solution for funding reasons and PetaGene was willing to go the extra mile to help us. We decided to go with PetaGene as they offer transparent on-the-fly decompression and we estimated that there would be an overall cost saving compared to other solutions."

"Handling the enormous amount of data we receive from genome sequencing is a huge challenge in our group as we analyse data from more than 10,000 human genomes... PetaGene's solutions allow us to easily store, use and visualise the sequencing data at a fraction of the cost."

Customers and Collaborators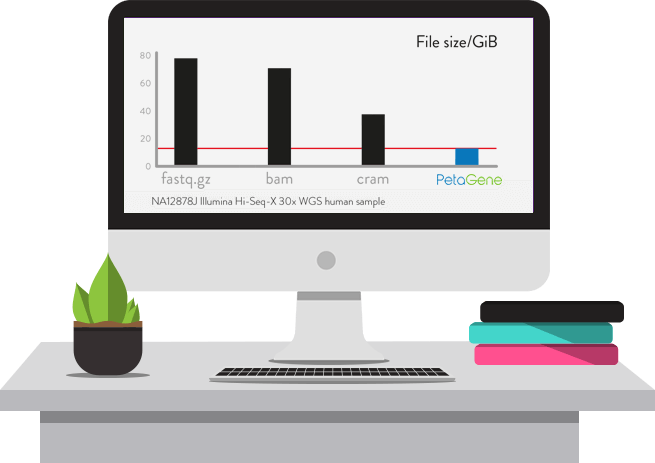 How Does it Work?
PetaGene supplies multi-threaded Linux software (PetaSuite) for you to use to losslessly compress your BAM and FASTQ.gz files for savings of between 60% and 90%, whether on-premises on in the cloud.
You never need to decompress the files - our software comes with a user-mode shim (PetaLink) that does efficient random-access on-the-fly decompression out of memory so that the files appear with their original filenames in their original format. Performance is improved by doing this, due to I/O savings.
The Cloud Edition of PetaSuite even allows you to transparently migrate your pipelines to the cloud and/or access remote data as if it is local without downloading it first.