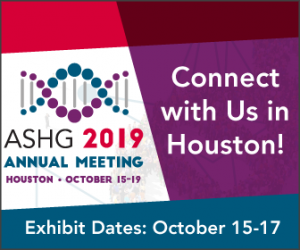 We will be among the exhibitors (on booth #609) at the ASHG Annual Meeting 2019 in Houston, TX from 15th to 19th October. Each year the event attracts around 6,500 scientific attendees, plus 250 exhibiting companies. It's the world's largest gathering of human genetics professionals. The meeting provides a forum for the presentation and discussion of cutting-edge science in all areas of human genetics.
Make sure you visit us to talk about the challenges you face with storing and managing large genomic datasets.
We'll also be hosting an Exhibit Hall Education (CoLab) session on Wednesday 16th October from 4:00 to 4:30pm on booth 345. In this session Michael Hultner, PhD, SVP Strategy & GM US Operations will demonstrate how our new encryption and data management capabilities enable organizations to manage access to their genomic data by internal and external teams.
If you're attending ASHG 2019 in Houston, drop by booth #609. Even better, book a meeting in advance of the show to make sure we fit into your schedule. We look forward to seeing you there.
If you'd like to know more about the event or register to attend, visit the website.