For PetaGene, the one million genome era is underway
We are pleased to announce the reaching of a landmark: PetaGene's customers have now compressed over one million genome files.
The dramatic drop in the cost of sequencing genomes and the numerous applications of this data to tackle critical diseases such as cancer and rare diseases has led to the rapid growth in genomic data.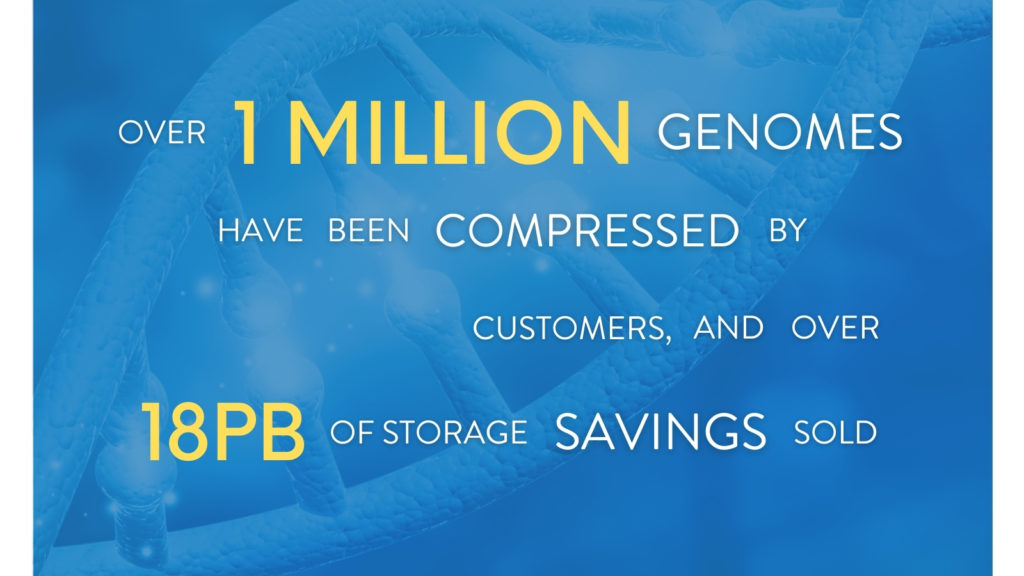 PetaGene's software is deployed across the life sciences industry: biopharma, hospitals and research centres around the world. Our customers adopted our compression technology to mitigate against the rapidly rising storage costs. PetaGene's compression software uniquely preserves all of the file data in truly lossless compression, giving our customers the guarantee that all their data is retained in a much smaller file. Additionally, our compressed files are transparently presented back in the identical original BAM/FASTQ.gz format to all tools and pipelines, which makes integration trivial and ensures compatibility with all tools. Using the compressed data with PetaGene's just-in-time decompression in this way actually speeds up pipelines and workflows significantly.
As genomic applications in healthcare grow it is expected that even more data will be generated and this will present a dual challenge of requiring cost-effective storage and also ensure secure, compliant data management. With that in mind, PetaGene has developed an award-winning platform to encrypt and audit all data, with bespoke region-based encryption for BAM and VCF files - the product is now in general availability. These compressed and encrypted files are compatible with all tools and, additionally, all data accesses are captured in a tamper-evident cryptographic ledger. To find out more please contact info@petagene.com.