We are pleased to announce that Princess Máxima Center for Pediatric Oncology, the largest pediatric cancer center in Europe, has chosen to use PetaGene's transparent, lossless genomic data compression software, called PetaSuite, to reduce its data storage costs while accelerating access to the data. Next-generation sequencing plays an integral role in the Center's diagnostics and research discoveries. These valuable genomic datasets are large, and their volumes are growing. As such the Center sought to find a compression technology that can store genomic data for longer at a much lower cost while removing bottlenecks in genomic sequence analysis.
PetaGene's PetaSuite software was evaluated by the Center against other compression techniques and unlike these, PetaSuite met and exceeded the criteria for a simple to implement and high compression performance solution, supported to a commercial standard.
Positive evaluation results
Senior Principal Investigator Dr. Patrick Kemmeren at the Princess Máxima Center describing the process, said: "Our tests with PetaGene's compression software gave very positive results. We tested whole exome samples, RNA-Seq and whole genome sequencing data for different tumor samples. Implementing the software on our high-performance compute cluster is easy, the compression ratios are larger than what we obtain compared to CRAM compression, and accessing data is actually slightly faster compared to non-compressed BAM files. This on top of the added benefits of not having to switch to a different file format, a perpetual license for decompression and the time gains in not doing the BAM to CRAM conversion/retooling (and vice versa for some tools). As a result, we decided to implement PetaGene's compression software within our computational infrastructure."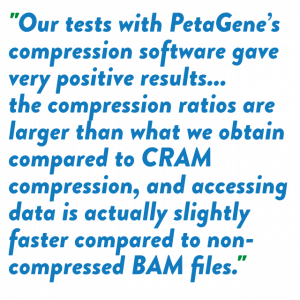 The right software at the right time
Jos Leendertse, Manager Research IDT at Princess Máxima Center, commented "By implementing PetaGene's compression software we are also able to speed up the migration process to our new storage infrastructure. It's not only the right software but also at the right time."
Vaughan Wittorff, Ph.D., Cofounder and Chief Commercial Officer at PetaGene added, "During the evaluation process, the researchers found PetaSuite's transparent access technology particularly compelling since it meant that the compressed data could integrate seamlessly with the bioinformatics structure Princess Máxima Center already had in place. A key challenge with compression is to ensure that end-users can continue working with the compressed files without having to change their existing, optimised workflows. PetaGene has solved this by ensuring that the compressed files are readable to existing tools and pipelines in the compressed state. This means our customers do not have to change any of their tools and pipelines, making it easy to integrate our compression technology within their infrastructure."
About Princess Máxima Center for Pediatric Oncology
Opened in 2018, the Princess Máxima Center for Pediatric Oncology, based in Utrecht, The Netherlands, consolidated the work of seven different academic centers across the Netherlands into the largest pediatric cancer center in Europe. As both a hospital and a research institute, the Center has a combination of world-class facilities, leading clinicians and researchers all driven by a passion to cure pediatric cancers. By integrating the research facilities with the hospital, the Center is better equipped to implement novel discoveries into clinical care. For more information, visit www.prinsesmaximacentrum.nl/en.